Online Fluoroscopy CME Radiation Safety Courses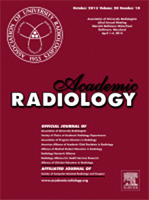 Our Fluoroscopy CME courses for satisfying state fluoroscopy regulations work!
A study published in Academic Radiology showed that patient dose decreased after radiology residents took our Advanced Training Program. More details are available here.
At FluoroSafety, we aim to provide the most comprehensive Fluoroscopy CME courses on the market. Our online training courses are customized so you can select the program that is most appropriate for your medical discipline or to meet specific state requirements. Physicians who frequently use fluoroscopy or perform complex fluoroscopically guided procedures need the training provided in our Advanced Training Program on the Safe Use of Fluoroscopy, while those who use fluoroscopy only occasionally will benefit most from our Basic Training Program on the Safe Use of Fluoroscopy.  Physicians needing to meet annual training requirements for The Joint Commission can complete Annual Training for Individuals Who Use Fluoroscopic Equipment.  Individuals who are interested in improving the patient safety culture in their department as a whole will benefit from our Establishing a Patient Safety Program in Fluoroscopy activity.
All of our fluoroscopy CME courses are designed so that you can complete them at your own pace–you can go through the material when you have time on any computer, iPad or iPhone with internet access.
 We offer special pricing for residents and trainees as well as discounts for purchases of multiple licenses. Please click here for more information.