Maryland initial and continuing fluoroscopy training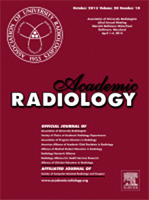 Our Fluoroscopy CME courses for satisfying Maryland fluoroscopy regulations work!
A study published in Academic Radiology showed that patient dose decreased after radiology residents took our Advanced Training Program. More details are available here.
Per section F.5 of the Maryland code of regulations (COMAR F.5(n)(2)),  all persons must have at least four (4) hours of training prior to use of a fluoroscopy system.  
What specific training topics does Maryland require?
Biological effects of x-ray;
Principles of radiation protection;
Factors affecting fluoroscopic outputs;
Dose reduction techniques;
Principles and operation of the specific fluoroscopic x-ray system(s) to be used;
Fluoroscopic and fluorographic outputs of each mode of operation on the system(s) to be used; and
Applicable requirements of these regulations.
Ensuring proper dosimetry and monitoring of workers in Fluoroscopy;
Assessing radiation levels from Fluoroscopy, assuring they are ALARA;
Meets the Joint Commission environment of care (EC.02.04.03 and HR.01.05.03)  fluoroscopy standards which necessitate ongoing education and annual training for individuals use fluoroscopic equipment (HR.01.05.03).
Testimonials from Physicians in MD
At FluoroSafety we review CME evaluation comments on a monthly basis to improve our courses.  Here are examples of unedited remarks by physicians who have completed this training program.
From a Pulmonologist in MD:
"I took this to meet a requirement – I was pleasantly surprised about how much I learned."
In addition, 1 hour of continuing training is required every 24 months after initial training.  Completion of our Basic Training Program meets all of the Maryland requirements for initial fluoroscopy training.  Our course Annual Training for Individuals Who Use Fluoroscopic Equipment is an ideal refresher to meet the Maryland two year continuing education requirement.
Both courses provide physicians with  AMA PRA Category 1 CME Credit™ and may also serve as self assessment CME (SA-CME), as required for Maintenance of Certification (MOC) by members of the American Board of Medical Specialties (ABMS).
100% Online
Take FluoroSafety courses on your computer or tablet at your convenience and receive your certificate immediately after finishing! Please note that all sales are final. 

Acapedia is accredited by the Accreditation Council for Continuing Medical Education (ACCME) to provide continuing medical education for physicians.
Discounts
We offer discounts for purchases of multiple licenses, as well as a custom management interface for institutions and clinics. More information here.