California Fluoroscopy Supervisor and Operator Permit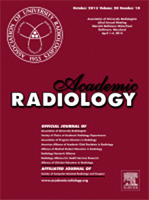 Our Fluoroscopy CME courses for satisfying California Supervisor and Operator Permit work!
A study published in Academic Radiology showed that patient dose decreased after radiology residents took our Advanced Training Program. More details are available here.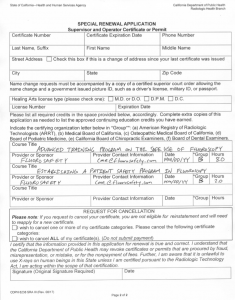 Click above to see an example of a completed California Supervisor and Operator Permit Special Renewal Application
You can also take these FluoroSafety courses to meet the California rule...
Taking the California Fluoroscopy Exam
In addition to CME credit, our Fluoroscopy training programs will help prepare you to take the State of California Supervisor and Operator Fluoroscopy Examination. One can effectively prepare for the examination by combining our Advanced Training Program on the Safe Use of Fluoroscopy with self-review of the Exam Content Specification.
Please note that you must apply and be admitted to the California fluoroscopy permit examination on your own. Our course can help you prepare to pass the CA fluoroscopy test, but it is your responsibility to verify your eligibility to sit for this exam.  Forms for obtaining or renewing your fluoroscopy permit are available from the California Radiological Health Branch.
Testimonials
At FluoroSafety we review CME evaluation comments on a monthly basis to improve our courses.  Here are examples of unedited remarks by physicians who have completed this training program:
A Cardiac Electrophysiologist from CA writes:
"Often we are mandated to take courses to continue certification, and some of them are frankly not very educational. This course is well done, educational, and an excellent refresher course for someone like me who has been doing procedures for over 30 years."
An Interventional Cardiologist from CA said:
"Great course, even though I took it 2 years ago, new updates and always good to have a refresher."
An Anesthesiologist from CA wrote:
"Best source to prepare for fluoroscopy exam by far"
The top quality educational programs from FluoroSafety have been approved for Self-Assessment CME (SA-CME) credit for Maintenance of Certification (MOC) by most American Board of Medical Specialties (ABMS) member boards.  Click here for more details on MOC for ABMS member boards. All CME earned with FluoroSafety counts towards the biennial 50 CME requirement for renewing a California Medical License.
When completing your renewal application, select Code (b) for the Medical Board of California, which recognizes AMA PRA Category 1 CME Credit™.  The image on the sidebar to the left contains an example of a completed renewal form, just click the image!
100% Online
Take FluoroSafety courses on your computer or tablet at your convenience and receive your certificate immediately after finishing! Please note that all sales are final. 

Acapedia is accredited by the Accreditation Council for Continuing Medical Education (ACCME) to provide continuing medical education for physicians.
Discounts
We offer discounts for purchases of multiple licenses, as well as a custom management interface for institutions and clinics. More information here.